Surprising Free Tools to Improve Your Writing
Free Tools to Improve Your Writing
The key to writing compelling content lies in the tools you use to write it. Whether you're writing an article, newsletter, press release, or blog post, your readers will judge your content based on how easy it is to read and understand. That's why we put together this list of the best free tools to help improve your writing immediately. From grammar checkers to plagiarism detectors and much more, these tools will surely give you an edge over other writers who don't know about them yet!
Cliché Finder
You know those phrases that have been written and rewritten a thousand times? Cliché Finder can help you find them, so you don't get tangled up in them again. It tells you how many times any given the word or phrase has been used in an English-language publication. And if one particular term shows up far too often, it will offer alternatives. This free content writing tool also helps streamline your writing by helping you decide what words really mean.
Hemingway App
The Hemingway App allows you to write boldly and more straightforwardly. If you detect a yellow sentence, shorten or split it. Your language is excessively dense and complex if users notice a red highlight. Readers will become disoriented while attempting to decipher the chaotic logic. You should try changing the color of red corrections by altering them. Adverbs and weakening phrases are highlighted in blue for easy identification. Get rid of them and replace them with more forceful words. Passive voice is indicated in green. The toolbar will help you format your content.
Google Docs
Save your documents online with Google Docs, allowing you to access them from any computer or mobile device. This means you'll never have to worry about losing an important document because it will always be available wherever you are. Additionally, if you can't access your computer or work through it, working through a cloud-based solution like Google Docs can give you extra peace of mind. While not free forever, their free version offers unlimited storage. It allows you to collaborate on projects and store up to 15 GB of data in its file size limit.
yWriter
A free writing tool is available for Windows and Mac. It has a word count function, a character counter, and an automatic backup system that allows you to save your files automatically in multiple places. This is incredibly helpful if your computer dies or accidentally hits delete on your work. An excellent resource for beginning writers who need help putting together longer stories. You can also write directly into Microsoft Word with yWriter open; it will show up under Other Documents, so you can refer back to it later.
https://ywriter.en.softonic.com/
Focus Writer
When you write for work, it's easy to focus on your output—how many words did I write today? Did I hit my target? How can I produce more content next week or month? When you write just for yourself, however, quality becomes paramount. After all, if you're not proud of what you wrote or don't feel like it was worth your time and energy, then there's no point in writing at all. FocusWriter is a free writing tool that emphasizes getting things done over high word counts. Choose from three goals (write 500 words in 30 minutes; write 1000 words every day; etc.), and away you go! When you finish your session—or before!—check out FocusWriter's handy review tools.
https://gottcode.org/focuswriter/
Thesaurus 
You should always use your own words when writing—it's good practice and shows you have a more comprehensive vocabulary. That said, sometimes it's hard to find that word, or if you're inexperienced at writing (or speaking) publicly, you may fall back on filler words like very, just, and that. A thesaurus can help with both of these problems by giving you words that mean what you mean. The site is free; simply type in your comment and let it suggest alternatives based on synonyms from its dictionary. It won't tell you how well those alternative words fit into your context—but that's what your brain is for!
Free Radical Research Citation Generator
A free writing tool online will help writers develop citations for their research and increase research credibility. Free online tools that generate citation data in proper formats can be beneficial. These tools save time by pulling information directly from scientific databases such as Web of Science or PubMed. You access your research, then generate reference and in-text citations based on your parameters.
https://www.citethisforme.com/citation-generator/free-radical-research
Word Counter Net
This free online tool will display statistics about your writing, such as word and character counts, sentence length, and reading level. You can also generate a readability score for your work. This is useful for determining if you're wasting your time with academia when you need real-world application. Suppose you have a lot of complicated jargon or big words in your writing. In that case, Word Counter gives you an idea of how inaccessible it will be to others. There are similar tools out there that provide more information. Still, they don't work on web pages—only Microsoft Office documents. Try them all! They each offer unique features that can help hone in on weaknesses in your work.
High-quality writing doesn't happen in isolation. Whether you're an author, blogger, poet, or another type of writer, you need to use the right tools to enhance your work and get the most out of it. Fortunately, there are plenty of free tools available online to help you with this process. This article will introduce you to several of the best free writing tools to improve your writing as quickly as possible.
Write Monkey
A distraction-free writing tool that helps you focus on your words. WriteMonkey doesn't have a lot of bells and whistles, but it does get the job done, and for free. You can choose from three different types of font, import and export notes from/RTF or TXT files, and choose from four different text sizes.
It also comes with a built-in word counter and an integrated timer to keep track of your writing goals. If you find yourself getting distracted by all those fancy features in other writing tools, give WriteMonkey a try. The interface is clean and simple so that all your attention stays focused on what matters most: your words.
https://writemonkey.com/
Paraphrase Online
A sentence, article, and paragraph online paraphrasing tool. This rephrases any text you type, it is automated, and the company insists You won't find a better synonym generator online. The tool can be used to modify any of the following: texts, articles, essays, phrases, sentences, and words. I've said this before, but it's worth repeating that it's free.
In order to test the tool, I grabbed this paragraph below from their website and ran it through the rephrase tool. You can see the before that is in parentheses, and the output, after it was run through the rephrase tool!
"Quickly reword textual content for a website, blog, business document, or whatever you need. But be careful – without appropriate references, your rewording could be understood as a copyright violation and we don't support plagiarism."
Rapidly revamp printed substance for an online, site, blog, business record, or whatever you would like. But take care – without suitable references, your revamping may well be. Caught on as a copyright infringement and we do not back plagiarism.
Be sure to check out their website. It is really cool that they took the time and considerable effort to make this tool freely available. Thanks, guys!
https://www.paraphrase-online.com/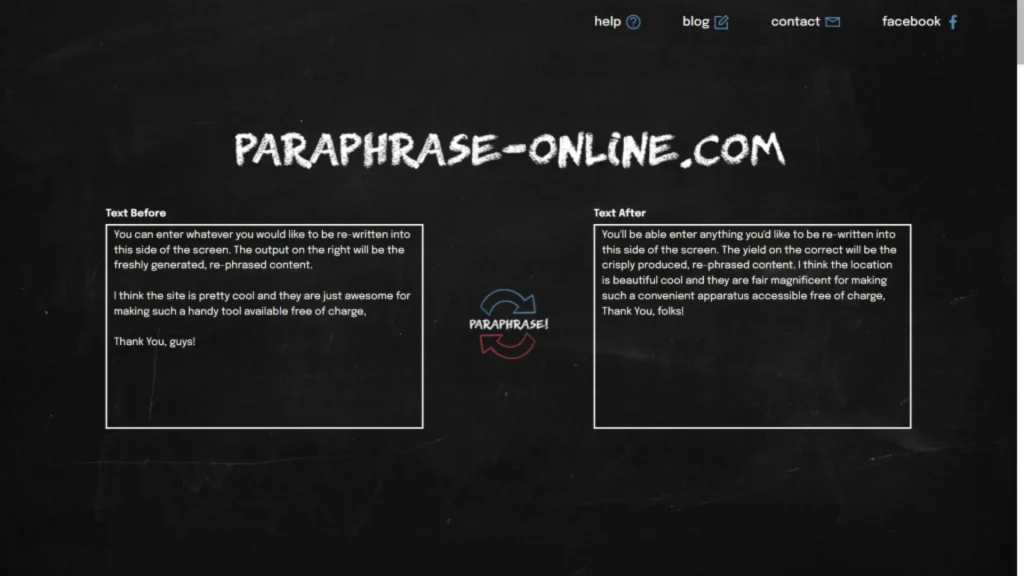 Evernote
One of many cross-platform applications that facilitate note-taking, recording ideas, and drafting documents. Notable for its versatility. Evernote supports a number of different features and tools, making it ideal for all kinds of writing projects. In addition to standard text notes, you can record audio or video recordings (in a format compatible with Windows Media Player), take pictures from your phone or camera and attach them to notes, and even grab webpages from your browser's cache.
Storing Research and Organizing Content
Everyone knows Evernote. It's a powerful tool for storing research and organizing content. But did you know it can also be used as a word processor? And that it offers free collaboration features for teams? For example, a blogger could use Evernote's tools for meeting notes, taking live dictation during interviews, managing ideas, and even writing posts, making this a versatile writing tool.
This is especially useful if you don't want to invest in a premium app like Microsoft Word or Google Docs.
https://evernote.com/
Papers Owl
If you're a student or professional and you need to cite your sources, PapersOwl is a good option. The site offers access to e-books in many disciplines, plus provides a mechanism for citing sources. And it's all free! If you have trouble locating your source elsewhere (or if it's not available online), PapersOwl can help. You can even use the service while writing your paper if you want.
Online Plagiarism Checker for Students
Check any type of paper at no cost, using Paper Owl's plagiarism checker, the best, and most accurate, free plagiarism checker! They also have an assortment of other writing tools and resources. So check them out!
https://papersowl.com/
Paraphrase Tool
The paraphrase tool supports paraphrasing in over 100 languages. Automatically detects the input language. Detailed step-by-step guide. Guides, writing optimizers, plagiarism tools, and checkers to eliminate plagiarism. The text summary tool summarizes text in over 100 languages. Essay writer tool to generate text in over 100 languages. Short story generator, job ad generator, paraphrasing tool.
Professional paraphrasing tool, rephrase tools, business plan generators, cover letter generators, poetry generators, dictionary of useful tools and terms, sentence changer, essay writer, content, and article spinner. Rephrase your writing, and a host of other cool tools, resources, and tutorials. Check them out!
https://paraphrasetool.com/