Fake Name Generators – Fake Names
Random Name and Fake Name Generators
Generators Galore on this site! I counted 898 pre-made Fake Name Generators on just about every object you can think of. If you can't find what you want – Generate one yourself! With a little creativity and imagination, the Custom Generator creates original generators just for YOU!
You don't even need to worry about trying to break through that language barrier either. They have got you covered. Translations are available in different languages, Ali G, Borat, Cockney Rhyming Slang, Emoticon Spew, Gangsta, Hippy, Pirate, and Redneck.
They have chatbots, and translators for different languages – Atheist Alan, Christian Clive, God, Guru Slycer, Life Coach Connie, Life Mall Ninja Mike, Moses, Sifu Soke Kent, Tinfoil Tim, and the Zen Master. They also have articles and lists. Check them out!
https://generatorfun.com/
Fantasy Name Generators
Over 1400 fake name generators, guides, tools, and description generators. Too many to list. Real names, fantasy names, names of places and events. Names and guides for games and a lot more. See for yourself on their website listed below.
https://www.fantasynamegenerators.com/
The Story Shack
Random name generators and illustrated stories. It includes tools to create your own idea generator, fantasy name, D&D name, writing idea generator, real name generator, animal name, sci-fi name, fan fiction name, Skyrim name, place name, classic name, adventure name, and various other name generators. There are stories that have been submitted by users. Writing tutorials and some other resources. See the link below.
https://thestoryshack.com/
Codexnomina.com
Name Generator Site, some great name codices are shared, along with place and weapon names, monster names, and game names.
https://codexnomina.com/
Spring Hole
An eclectic assortment of everything from all over the web. It includes art, design, graphics, humor, links, logical fallacies, quizzes, random generators, role-playing, self-help, Worldbuilding, and a large section about writing, with detailed tutorials. There are numerous other posts, funnies from around the web, and assorted tools you can put to use. Check them out!
https://springhole.net/
Seventh Sanctum
Seventh Sanctum, is a collection of name generators for beings, characters, combat, darkness/evil, equipment, humor, magic, media/fandom, names and naming, organizations, places, skills, abilities, traits, superheroes, Sendai, technology, and writing. It also has books, a newsletter, and an active community, with frequent posts being added by the author. Check them out by using the link below.
https://www.seventhsanctum.com/
World Address Generator
Creates a fake address.
All Countries and Regions:
Algeria, Albania, Armenia, Argentina, Austria, Azerbaijan, Barbados, Bangladesh, Bahrain, Belgium, Belarus, Brunei, Bolivia, Bahamas, Botswana, Brazil, Cayman, Chile, China, Cambodia, Cameroon, Colombia, Croatia, Costa Rica, Cuba, Cyprus, Czech Republic, Denmark, Dominican Republic, DR Congo, Ecuador, El Salvador, Egypt, Emirates, Estonia, Ethiopia, Finland, Fiji, France, Gabon, Georgia, Germany, Ghana, Guatemala, Hong Kong, Honduras.
Hungary, Iceland, India, Indonesia, Ireland, Israel, Iran, Italy, Ivory Coast, Jamaica, Japan, Jordan, Kazakhstan, Kenya, South Korea, Kyrgyzstan, Kuwait, Latvia, Lebanon, Sri Lanka, Lesotho, Lithuania, Luxembourg, Libya, Morocco, Madagascar, Mali, Myanmar, Malta, Mauritius, Malawi, Mexico, Malaysia, Moldova, Namibia, New Zealand, Nigeria, Nicaragua, Nepal, Netherlands, Norway, Oman, Panama, Peru, Papua New Guinea, Philippines, Pakistan.
Puerto Rico, Paraguay, Poland, Portugal, Qatar, Romania, Russia, Rwanda, Saudi Arabia, Singapore, Slovakia, Senegal, Spain, Slovenia, Suriname, South Africa, Sweden, Switzerland, Syria, Thailand, Turkey, Trinidad, and, Tobago, Taiwan, Tanzania, Tunisia, Uganda, Ukraine, Uruguay, Uzbekistan, Venezuela, Vietnam, Yemen, Zambia, and Zimbabwe.
The United Kingdom, Australia, Denmark, and California. Now you can have a fake address to go with your fake name!
https://worldnamegenerator.com/
Fantasy Fake Name Generator
Human / generic names, names for Dwarf, Elf, Hobbits, Barbarians, Orc, Evil names,
"Asian-like" names, "Arabic-like", Fantasy surnames, Science fiction names, Lovecraft, medium or long names. Reptilian names (lizard men, snake-men, etc.)
"Aztec-like" names, Rat-man names, Demons, Dragons, Wizards, Mixed names, modern English names, Baby Names, Fantasy place name generators, Fantasy titles, Military Operation names, Superhero, supervillains, Rock band names, and more!
https://www.fantasynamegen.com/
Chaotic Shiny
Gaming and writing name generator. Generate names for, academics, adventure, alphabet, animal companions, the apocalypse, arena, armor, art objects, attitude, ballads, bazaar, alchemy, cars, charms, civilization, class, mashup, cliché fantasy plot, code phrases, color, combat terrain, conspiracy, constellation, country songs, crowd, cultural mix, culture, currency, D&D 4e characters, diseases, evil, faction, fallacy, familiar, fancy drinks.
Fantasy
Fantasy characters, fantasy traps, fantasy-style names, fashions, flags, futuristic spare parts, gemstones, good ideas, historical events, holidays, homes, insignia, inspiration finder, mashup, Joe's dice, language mixer, Latin gibberish, laws, life motivators, list Gen builders, magic, magic artifacts, magic tricks, magic weapons, magical components, maps, martial arts, meals, medieval army's, medieval cities, medieval city maps.
Medieval games, merchants, modern characters, modern names, monsters, motives, mottos, musical instruments, Nano motivators, name jumbles, name mixers, names, noble names and nobility, opinions, pantheon, paranormal romance, people, phrase generator builder, place names, places, planets, plot/writing, poems, poisons, political buzzwords, portals, potions, prophecy, RPG (role player game) classes.
RPG
RPG drinking games, random generators, region generators, religion, rituals, runes, sci-fi traps, setting mashups, silly things, simple characters, situations, small inventory items, spaceships, stars, story arc, superstitions, tarot cards, taverns, tools, tournaments, treasure troves, tri-stat d10 NPC, weather forecasts, White Wolf games, writing exercises, zombies, zoomorphic.
The owner of the site goes under the alias of "Swordgleam". She states on the website her real name is Hannah, (pretty sure not a fake name!) and they are "living the dream in sunny California, having run away from the land of ice and snow".
There is a newsletter that readers are encouraged to sign up for, which will bring them "sneak peeks" and "explanations of why I build gens a certain way", as well as an opportunity to ask the site's creator questions. They also have a store and other areas on the site, but we already covered a lot! Check out the link below.
http://chaoticshiny.com/
Fun Generators
Generators for fantasy names, alien, angel, anime, business name, car name, cat name, city, demon, dog, Dothrak, dragon, dwarf, elf, Facebook, French name, Game of Thrones, horse name, hospital name, Indian name, Japanese, medieval name, ninja name, pet horse, pet, pirate, Pokémon, place names, restaurant names, real name, school name, Shakespearean name, shop, street name, superhero, town name, and Twitter username.
There are also computing generators, code generators, text generators, trivia generators, and numerous other generators, besides the usual fake name generator. Check the site out. See the link below.
https://fungenerators.com/
Name Generator Co
Has several fake name generators, including name generators for people, babies, and real or imaginary people. Thousands of names to choose from. Simple English names, like Jane Austen, Shakespeare, or Charles Dickens is created in seconds. First names for characters or role-playing, or any purpose for that matter.
German names, Japanese names, middle names, nature names, baby girl names, baby boy names. Random names, first and last names, along with meaning and origin. Unique names, and domain names that match your new person or baby name!
Fantasy Names
Alias, alien names, angel, baby doll, bandit, barbie, book titles, breakfast cereal, cowboy,
Cowgirl, dark elf, demon, dragon, dwarf, emperor or empress, fairy, fantasy, generate names, zombies, ninja wizards, sorcerers, mages, books, novels, or short stories, genie names, ghosts, giants, gnomes, goblins, goddess, knights, mermaids, monsters.
Norse names, ogres, pen names, pilgrim names, pirate, princess, roman, samurai, sea monster, sims, sorcerer, stage name, hero, teddy bear, the walking dead, trolls, unicorns, Vampires, Vikings, Vikings, villain, werewolf, witch, wizard, and so, so many more. There are also a lot of other fake name generators and tools o the website. Far too many to mention. Check them out on the link below.
https://www.namegenerator.co/
Elf Names
They include Dungeons and Dragons, The Elder Scrolls Online, Lord of the Rings, World of Warcraft, and fantasy names. It also has some generic and custom generators. The site states: "Our main motive behind developing this website, was to provide unique character generators, who are interested in using unique and amazing Wu-Tang titles, for rappers and singers, for a unique identity in the hip hop world".
They have a Facebook page called Elf names. Check out their website. The address is below.
https://www.Elf-names.Com/
Name Generator UK
Names for every occasion, characters, babies, authors, or bands. Generate quick names, characters, pen names, band names, baby names, first names, middle, last female, male, nickname, twin, rapper, cat, pirate, fantasy.
Usernames, Instagram, name, blog, names, hero, name, villain, couple name, food, house, street, town, country, business, team, gaming title, fake name, character, dating profile, plot generator, song lyrics, letters, poems, and more. Check out their website below.
https://www.name-generator.org.uk/
Mithril and Mages
Collection of generators includes anagram engines, city names, business names, inns and tavern names, man-made thing names, medieval, modern, natural terrain, old Wild West, restaurant name generator, ship or boat name generator, and street name generators, monster generation, monster mangler, monster stoker, NPC generator, spell books, spell scrolls, treasure by hoard class
D&D
Dungeons and Dragons / advanced Dungeons & Dragons generators, 1e character attributes, 1e NPC, 1e spell scrolls, 1e treasure generator, 1e treasure book (PDF), 5e treasure generator, 5e treasure, book (PDF), tarot of many things, modern generators, city block generator, major college generator.
Criminal history generator, modern business types, modern job titles, wounds/diseases, bare bones™ fantasy generators, BBF adventure idea generator, BBF NPC generator, miscellaneous generators, dice roller, esoteric creature generator, Rotoworld NPCs, white star™ NPC generator, and many others. See the website below.
https://www.mithrilandmages.com/
Fake Name Generator Info
Simple random name generator and fiction writing tool. It will first and last names, or character names easily. Based on the US Census database, this will generate 1219 English male first names, 4275 female first names, and 88799 last names. It can also generate over 480 million random names! YES, you read that correctly, 480 Million! For such an unassuming website, it packs a powerful punch!
http://random-name-generator.info/
Perchance Org
Perchance is a sharing platform for creating and sharing random text generators. To make a generator, the site says "you simply create lists that reference other lists"
It has an active community on Reddit that goes along with the site. https://www.reddit.com/r/perchance/
There are lots of tutorials, and a detailed page with a growing list of resources to help you build great generators. There are links to the following resource pages that contain more detailed information and information, tools, etc.
There are about 750 recently created random name generators, fake names, etc., that have been made by visitors to the site. Check it out!
https://perchance.org/welcome
Name Generator Fun
The free name generator for inspiration and entertainment. Creates random character names business names, baby names, band names, fantasy, music, arts, and more.
Baby names, business names, character names, fantasy names, first names, funny names, game names, Markov names, middle names, nicknames, pet names, rap names, sci-fi names, superhero names, surnames, and usernames.
Generate Names For
Baby, floral, business, character, American, African American, Hispanic, Jewish, Native American, Cambodian, Chinese, Danish, English, Filipino, Finnish, French, German, Italian, Japanese, Korean, Norwegian, Spanish, Swedish, fantasy, Christmas elf, dragon, dwarf, elf, fairy, fairy tale, hobbit, mermaid.
Pirate, pony, princess, Christmas, reindeer, unicorn, vampire, French vampire, werewolf, witch, funny, gangster, Halloween, roller derby, space mutiny, wrestler, zombie, games, warcraft, Warhammer dwarf, Markov, usernames, screen names, etc.
https://www.namegeneratorfun.com/
Fake Name Generator
The website says this is "the most advanced name generator" with 37 languages and 31 countries, and is apparently the most advanced name generator on the internet. It will generate names, addresses, social security numbers, credit card numbers, occupations, ups tracking numbers, and more absolutely free!
The fake name generator has been mentioned in the news, included in books, and referenced on websites all over the world. It was in the following books.
Cybercrime Fighters – Tales From The Trenches, by Felicia Donovan, and Kristyn Bernier.
Rule the web by Mark Frauenfelder
Pentaho Solutions: business intelligence and data warehousing with Pentaho and MySQL
It has also been featured online as noted by the following references.
Writer's digest: should you use a pseudonym, cool fake name generator & free wd subscription
Galleycat: fake name generator for writers
Lifehacker: become the next Jason Bourne with the fake name generator
31 Countries
The fake name generator can generate addresses and geographical latitude and longitude coordinates in 31 countries.
For most countries, also provide local telephone numbers. In some countries, they provide national identification numbers.
It can generate names in 37 different name sets. The list below shows how many unique names can be generated for each name set.
American, 487,861,706, Arabic, 212,220, Australian, 1,322,500, Brazil, 3,875, Chechen (Latin), 16,692, Chinese, 20,634, Chinese (traditional), 27,500, Croatian, 65,569, Czech, 4,995,998, Danish, 17,400, Dutch, 97,374,860, England/Wales, 114,500, Eritrean, 21,400, Finnish, 280,581, French, 476,658, German, 40,754, Greenland, 5,000, Hispanic, 1,516,298,553.
Hobbit, 19,468, Hungarian, 245,464, Icelandic, 184,997, Igbo, 178,605, Italian, 106,424, Japanese, 1,354,860, Japanese (anglicized), 1,281,660, Klingon, 133,000, Ninja, 487,861,706, Norwegian, 4,092,410, Persian, 46,500, Polish, 18,750, Russian, 66,633, Russian (Cyrillic), 58,212, Scottish, 100,000, Slovenian, 180,094,388, Swedish, 110,300, Thai, 17,064,168, Vietnamese, 31,500.
They also have many other cool tools and resources on their website, far too many to cover here! Check them out below!
https://www.Fakenamegenerator.Com/
Bonus – Wheel of Names
What is the wheel of names?
It is a really cool wheel that you can spin to pick a lucky winner. It works right in your browser and is super easy to customize. Just change the names that you want to appear on the wheel. That's it!. Then spin the wheel. I can not tell you how cool this really is!!
https://wheelofnames.com/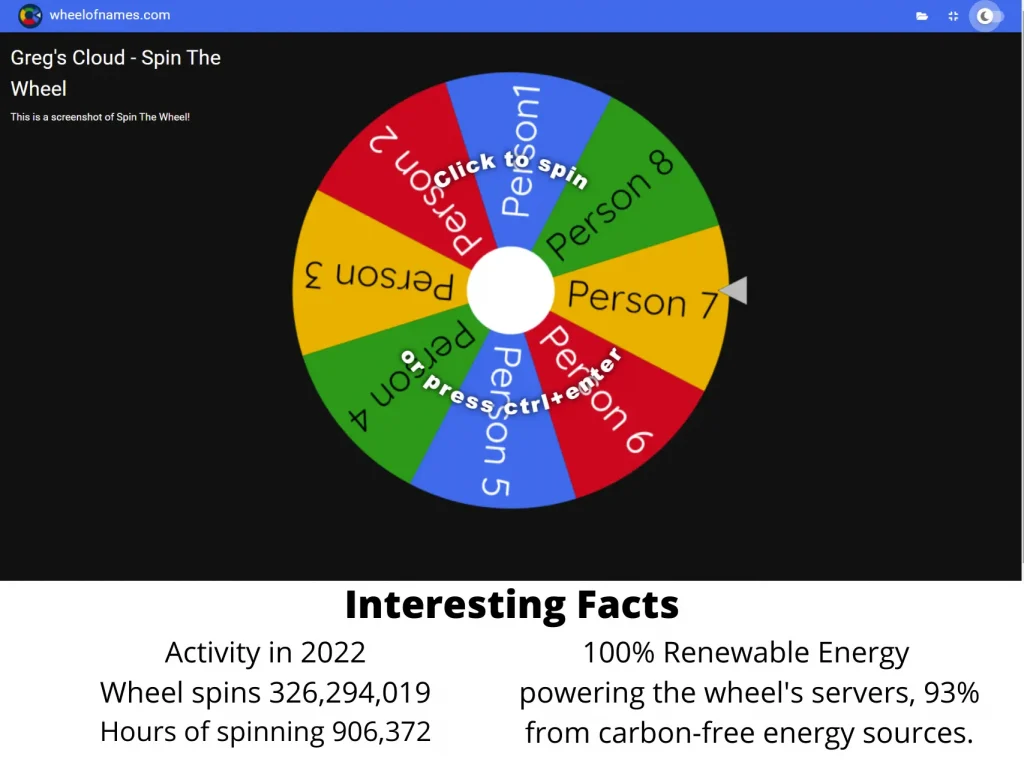 I hoped you enjoyed this list of Fake Name Generators and Random Name Generators. What's Missing? Let me know in the comments. Stay tuned for updates!