Canva Design Program Quick Guide
Get Started – Canva Design Program
Canva is an online design program that makes it easy to create everything from social media graphics for presentations, business cards, and more. Here are just some of the things that are possible to create using Canva.
Animations, book covers, business cards, CD covers, e-books, Etsy shop covers and icons, event invitations, Facebook posts, and pages or cover stories, Instagram posts, pages or cover stories, GIFs, gift certificates, infographics, marketing, and promotional items, resumes, posters, presentations, restaurant menus, t-shirt art, videos, WhatsApp posts, worksheets, yearbook covers, YouTube channel art and whatever else you can think of.
You are truly only limited by your imagination!
Here Are Some Basic Tips on How to Get Started
Setting up Your Canva Account
Signing up for an account on Canva is quick and easy. To start, just create a username and password. Then, make sure you check out your email inbox for an email from the Canva notifier within 24 hours of signing up. The message will be an invitation to connect your new account with a Google or Facebook profile, then you can use Canva apps like Instagram, Gmail, or Facebook right in your new account. After that, it's time to pick your favorite layouts and fonts, but more on that later! First, let's talk about one of my favorite things about using Canva community.
The Different Layouts You Can Use
Canva Design Program has lots of layouts to choose from, depending on what kind of media you want to create. Most of them have 2-3 sizes: a small version, which is great for social media images and email marketing; a medium version, which is good for web banners or infographics that you might want to post online; and a large version if you're trying to create something more like business cards or PowerPoint slides.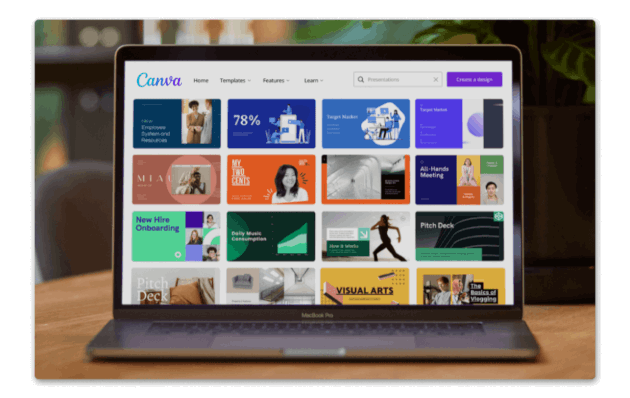 You can access all of these different layout options from your home screen. Simply tap on Layout and then choose one that matches your goal. If you need help to decide, use Canva's preloaded templates. All you have to do is drag and drop your images into place!
Where to Find Templates
There are over 250,000 custom-made designs and lots of ready-to-use templates. Templates for the Canva Design Program are easy to access and edit as well. If you have a business account on Canva, you can create a design library, where all your previously made designs are available for future use.
To do so, tap the "+" key in the top right corner, and choose "My Designs" from the menu. Then tap "Create New Design Library". Create one or several libraries – it's up to you! The purpose of a design library is to store finished projects that you can then reuse later on when creating new graphics for your website, social media posts, etc., saving lots of time from reusing already existing content.
Creating Your Designs From Scratch
Don't have any design skills? That's okay. With just a few clicks, you can create logos and business cards—and even publish them as printable or on social media. Here are five ways you can use your new design abilities.
Start by selecting a template, then drag and drop images and text boxes into your design. You can download your logo in any size or use it online.
Business Card Templates
Allows you to create cards using different backgrounds and business card sizes. You can export your business card as a printable PDF or publish it directly on social media sites such as LinkedIn, Facebook, and Twitter.
Social Media Cover Images
A cover image is an easy way to promote your company brand across social networks. Simply choose a template, add your logo, and type in a few lines of text.
Facebook Covers
Facebook coves are 851 x 315 pixels and Twitter cover images are 1500 x 500 pixels. For best results, use high-quality photos that are at least 1000 pixels wide.
Business Card Holder
Business card holder and mirror designs
aren't just for fun—they're also an easy way to promote your company. Just upload your card design and then share it on social media or download it as a printable PDF.
Getting People to Notice Your Posts
Before your content gets shared by social media influencers, it needs to start trending within your network. The most effective way to increase sharing is when you have someone personally involved in one of your posts: a friend, coworker, or family member.
If you don't know with whom you can share a particular post, try putting it out on social media and asking for feedback or recommendations. Chances are at least one person will be able to connect with you on it, even if they're not directly mentioned or featured in it.
Free Verses Pro
When considering whether you want to start using a tool like The Canva Design Program, it's important to ask yourself how much time you're willing and able to spend using it. For example, while Pro offers thousands of templates, they're meant for more advanced users who have some basic design knowledge and require more tweaking before they can use them effectively. On top of that, there's a monthly charge.
If you've never designed anything before or don't know anyone in your network who does graphic design, then consider going with one of their free templates and test-driving their products for a month.
Do I Like the Company?
Another aspect that you should consider in choosing a paid version of an application like Canva, is if you want to support the business. As they say, you can use many free versions of these apps, but if enough people pay for them, then developers and designers can keep improving their apps over time.
Of course, it's up to each user how much they're willing and able to invest in something like that. The Canva Design Program, Pro Plan will reveal a whole world of more possibilities before your eyes.
It Includes Everything From the Free Plan Plus
Upgrade to Canva Pro Today!
Professional Designs
Canva Pro can help you create professional designs that eliminate the need to hire a graphic designer and designs can be saved in SVG format (great for creating vector graphics).
It also has another function that most design tools don't have – "Canva Print", a printing service that allows you to print your amazing designs, and order them if you like. It is not offered in every country, even though they are expanding rapidly.
Now the Question You've Been Yearning to Get Answered
Is The Upgrade to Canva Pro Worth The Money?
If you like the look of the pro features and regularly create designs, need flexibility for greater control or options then pro is great value for money.
If the answer is "YES" then upgrade, if "NO" then don't upgrade, simple as that.
Why not check out the free version and learn how to get started with Canva. If you find you want access to the pro subscription, and all the additional features, then upgrade. They also offer a discount for registered nonprofit organizations, or they did at the time of writing. The Canva Pro Plan also makes a great gift for someone!
Try the free version, or sign up for a free pro trial, and get started with Canva today!
Canva Pro Trial
The cost depends on your country and currency too; for example, in the United States, a membership currently runs at $12.99 per month or $119.00 for a one-year's subscription or was at the time of writing.
Click Here Visit The Canva Website to Sign Up or for More Information